Over sixty years earlier, Czech listeners were also able to enjoy live hockey commentary from the Winter Olympics in 1936. That year the games were held in the Bavarian ski resort of Garmisch-Partenkirchen. The legendary Czech radio sports reporter, Josef Laufer, was there, and his commentary of the Czechoslovak team's semi-final against Great Britain still survives in our archives.
The whistle blew, the game got under way, and straight away the Czechs went onto the attack – with an early shot blocked by the British goalie. The handful of Czech and Slovak fans, who had made the journey to then Nazi Germany, cheered, "Hip hip hip, CSR!"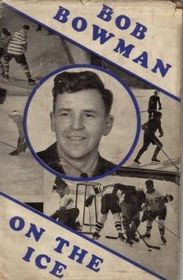 Bob Bowman Josef Laufer was joined in the commentary box by the Canadian one-time player and hockey writer, Bob Bowman, and from time to time, they would exchange a few words in English. A few minutes into the first period both agreed that neither team was looking very convincing.
As fate would have it, at that very moment Gerry Davey - who still holds the British record for the number of goals scored for his country – found the back of the Czechoslovak net. The slide had begun and the final score on that February evening in 1936 was 5-0 in Britain's favour. While Czechoslovakia ended up in fourth place, Britain went on to win gold, ending Canada's Olympic monopoly… although there were complaints that almost all the British players had lived and played in Canada for most of their lives!
Ten years earlier Josef Laufer had the honour of giving Europe's first live football commentary, when in October 1926, he commentated on a match at Prague's Letna stadium between Slavia Prague and Hungaria Budapest. At the time he was not a radio journalist at all, but the reporter had failed to turn up and he was the only person around willing to have a try. Later he recalled how the radio director, who was not a football fan, decided to switch off the broadcast at the end of the first half.
"The listeners didn't get to find out how the game ended. They were offered music instead. But they knew what they wanted and bombarded the radio with so many requests that football was back on the airwaves the very next Sunday. And once again, with me at the microphone."
This time the radio broadcast the whole game and Josef Laufer's celebrated career as a sports broadcaster had begun.