The show is conceived as series of humorous sketches, highlighting the most prominent figures and most important moments in Czech history, such as the reign of Charles IV, the Soviet-led invasion of 1968 and the Velvet Revolution of 1989.
With only four actors on stage, each of them has to perform quite a wide range of characters. Klára Štěpánková is one of the performers:
"There are two groups of people who are making the play and they alternate, so we have the possibility to play more than one character. And that's a great experience for the actors as well as for the spectators. So before each performance, we would sit down and say: OK, today you play this and this and that. So today, for example, I was playing a male Nazi, Jan Hus and many others."
So basically you have to know all the characters because you never know until the beginning of the performance which of them you are going to play.
"Yes, exactly and that's what makes it interesting and exciting. Because it can be quite intense and tiring to perform the same play two times a day. So this makes it more lively."
The show is interactive and the actors try to involve the viewers as much as possible. To teach them about important figures of Czech history, for example, they hand them different banknotes featuring portraits of Czech cultural and political figures such as Božena Němcová, Tomáš Garrigue Masaryk, Ema Destinová or Jan Ámos Komenský, the father of modern education.
Most of the actors have studied at the department of Alternative and Puppet Theatre and although they knew each other from previous projects, this was an entirely knew experience for most of them. How did they actually come up with the idea and with the script itself? Klára Štěpánková again.
"We improvised a lot, we played a lot of games and we spent a lot of time together. Actually we don't have any written script at all. We've got some written points that we had to follow. All of us agreed what should happen in the play, which people from Czech history should be there, and then we played the performance many times. Such improvisation initially formed a script."
The whole play was put together in a very short space of time and the attendance was perhaps not as high as expected. The actors have been staging the play every night for the past two weeks. Now they are finally going to have some holiday but after coming back in a few weeks' time, they want to continue with staging their show. Producer Petr Hrubeš:
Indian tourists: "We started to prepare our performance quite late, in May. We tried to attract people from the streets, but it is not easy. So the show was not very successful financially. However, we are ready for the next season. We invited people from the incoming tourist agencies to see the play. They seemed to like it and want to cooperate with us next summer."
One of the main reasons, however, why they want to continue with their show in the future is the reaction of the audience.
We are from India. It's our first wedding anniversary so we thought we could come here and celebrate.
Did you know anything about Czech history before seeing the play?
A little bit. We bought the Lonely Planet Guide so we knew a bit. But this was more detailed. And more fun!
More fun than the Lonely Planet?
Definitely! I was just a little surprised that it didn't cover the split of Czechoslovakia… I want sure why that wasn't covered. I guess they wanted to keep it happy and fun so they missed out on that.
"Sixty minutes is not enough to cover twelve centuries. So it's all right. It's excusable."
Greek tourist: "It was very interesting, I liked it. It was funny and quite enjoyable. I would recommend it to somebody who is visiting Prague.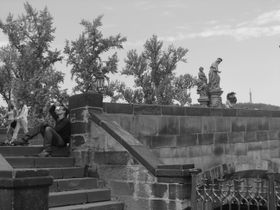 How much did you know about the history of Czechoslovakia and the Czech Republic before you actually saw the play?
"I have read a bit in the travel book, but this was more descriptive; more funny and more entertaining."
Do you actually remember any of the people mentioned by the play?
"I definitely remember Václav Havel and Charles the Fourth. That's about it."
So, if you are thinking of visiting Prague and you don't know much about Czech history, forget about tourist guides and come to see the History of Czechs in 68 Minutes instead. After all, one of the great Czechs – Jan Ámos Komenský - said that the best way to learn is through play.