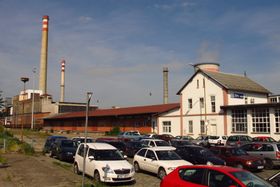 Photo: Kristýna Maková, Czech Radio - Radio Prague Czech Railways has property to sell and lots of it, according to news website iDnes: the state-owned firm is trying to sell off unneeded assets to put back into transport, Czech Railways board member Frantíšek Bureš confirmed. To be sold are roughly 3,700 buildings and 20 million square metres of land which cost hundreds of millions of crowns to maintain annually. Selling the property represents the best way forward, the company has made clear; according to iDnes the website already has 140 sales listings – including a home which previously served a train dispatcher – for a less than 700,000 crowns. According to iDnes, more listings will gradually be added. An additional 600 listings so far are rentals only.
The appearance of the website, according to iDnes, makes clear Czech Railways primary interest at this stage not to target big corporations but individual buyers, looking to acquire an unusual family home or site for recreation. Plots of land could likewise be interesting for entrepreneurs or so-called zahradkari (gardeners who own plots of land and sheds or tiny houses in so-called garden colonies that often dot leafy areas outside the city, offering a brief respite. The head of Czech Railway's department overseeing the sale of property, Šárka Cidlinská; it seems almost a foregone conclusion that some property will be bought by train lovers or railway hobbyists, who will want to own a small part of Czech rail history.
That said, iDnes points out, some of listings will be of interest primarily to large businesses, which can afford large former administration buildings worth tens of millions. Czech Railway has been fairly successful in sales: last year the giant sold some 270 such properties, large and small. Some of the presumably smaller sites sold for less than 100,000 crowns it was reported.