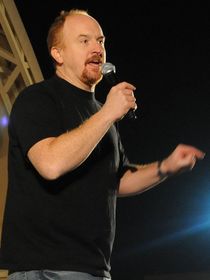 Louis C.K., photo: Spc. Elayseah Woodard-Hinton, Public Domain Some fans may have gotten their first glimpse of Louis C.K. in films like Blue Jasmine, American Hustle or Trumbo, or be longtime followers of his TV series. But stand-up is what visitors will be able to see from Louis C.K. on Tuesday night – provided they got tickets well in advance. Shows at Prague's Congress Centre quickly sold out. The second date, at the Rudolfinum (a famous concert hall) was added only after tickets for the first show were snapped up. There is a huge interest in seeing the comedian, who is known for greatly irreverent jokes and is unafraid to take on almost any topic.
In the past, the comedian has riffed on sex, marriage and divorce, bratty children, not being a particularly good parent or person, and much more. Opening the 40th anniversary special of Saturday Night Live, the comedian tread were few others would dare to go: child abuse. Yet somehow he managed to navigate the minefield, at the end breathing a sigh of relief:
"Alright we did it! We got… a great show tonight!"
Czech stand-up comedian Daniel Čech, a regular on HBO's Na stojáka, spoke to Czech Radio about Louis C.K.'s approach.
"There's a quote where he says that saying a subject is too awful or painful to joke about is like saying a disease is too awful to be treated. He's the kind of comedian who will make fun of anything."
Those going on Tuesday evening will no doubt be wondering what the comedian has planned, possibly whether he will make any Czech references. Comedian Daniel Čech notes that some who have done stand-up in Prague, such as British comedian Jimmy Carr in April, made a point of adding a few Czech touches.
"[Carr] had a nice opening in which he immediately referenced Czech President Miloš Zeman and his excesses with the crown jewels and drunkenness, whereby he immediately connected with the audience. I liked the fact that he mentioned something local."
For those lucky enough to see Louis C.K. in person, enjoy the show.