In 1506, Albrecht Duerer left his native Nuremberg and set off to Italy, for the second time. He stayed in Venice for a year where was given a valuable commission from a community of German merchants for the church of St. Bartholomew. Olga Kotkova is the curator of the Prague exhibition.
"The theme of the painting was determined in advance. It was an order by German merchants settled in Venice. They commissioned a painting with a Marian topic for their common praying of the rosary. You can see that, as a symbolic blessing, Virgin Mary is bestowing the future emperor Maximilian II. with a rose garland. In counterbalance to secular power, baby Jesus is about to crown the pope, kneeling opposite to the emperor, with a rose garland, too."
The success of the painting brought Duerer more fame and money as he was literally swamped by commissions after he returned to Nuremberg. As Olga Kotkova says, we can see the painter himself in the brightly coloured picture, merging the late Gothic and early Renaissance styles.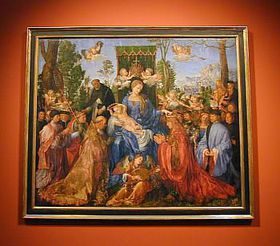 'The Feast of the Rose Garlands' "Albrecht Duerer is standing beneath a tree as an onlooker. We can easily identify him because he made many self-portraits. He is wearing colourful clothes. He was known to be interested in fashion. In his self-portraits he is either wearing very bright garments or nothing at all."
A century after it was painted, the Habsburg Emperor Rudolph II. bought "The Feast of the Rose Garlands" for a very large sum and reportedly, four men were hired to carry the almost 2-metre-wide wooden panel to Rudolph's Prague residence.
"Its fate was very turbulent but it is often the case with works of art. After Rudolph's death, Central Europe was plagued by looting and unrest. In 1631, Prague Castle was conquered by the Saxons and in 1648 the remainder of the imperial collections was looted by the Swedes. In the meantime, the best works from Prague were being transported to Vienna. This painting passed through many hands and it got badly damaged over time."
Several attempts were made at its renovation but not always successful. Finally, the painting was bought by the Czechoslovak state from a Prague monastery in the 1930s. Apart from Duerer's "The Feast of the Rose Garlands", the exhibit at Prague's Wallenstein Riding School presents the results of recent analyses of the painting as well as its troubled history. The exhibition will last until the end of September.
For more information in English go to: www.ngprague.cz/html/ajuvod.htm