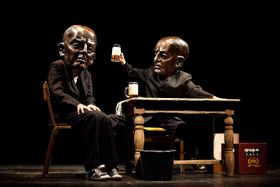 Spitfire company - 'Antiword', photo: archive of Next Wave "We are proud that we are able to present more than 30 very special Czech performing groups – mainly theater performances – but the festival is not only dedicated just to theater, so we will also present music, modern art, street art and other kinds of independent art forms.
"As a highlight, there are several first performances. One of them is a performance by Studio Hrdinů, which was prepared by a director duo of Michal Pechouček and Jan Horák. Another one is a project by Spitfire company 'Antiwords'. It is a special project which is based on [a work] by Václav Havel. And in these days it's possible to see it in the United States – in Washington DC and New York. And I could also extend an invitation to a site-specific project in Pardubice called 'Petroleum' by director Bambušek. I already saw part of the project and I can really recommend it."
And you've been with the Next Wave festival since the very beginning. Twenty years ago the Czech alternative art scene probably looked very differently. What kind of changes have you seen happen in these past two decades?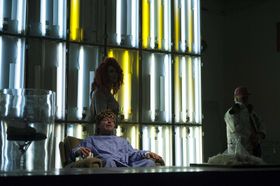 Miroslav Bambušek - 'Petroleum', photo: archive of Next Wave "Independent theater is an art form which mostly speaks through young people, and the needs and the feelings of the generations change, of course. At the beginning there was still a reaction to the end of communism. At this moment, there is a completely different basis for the performances.
"Twenty years ago, the Next Wave festival was the only chance to present independent theater at a festival in the Czech Republic. After Tanec Praha it was actually the second theater festival that was founded after the revolution. [In the time since] a lot of theaters founded their own festivals and they showed new possibilities of presenting independent art. But there is still a strong tradition and will to present quality independent art at our festival."
Czech theater abroad is still best known for playwrights like Václav Havel. Do you feel that it's changing somehow, that young Czech theater and alternative artists are becoming also the face of the Czech art scene abroad?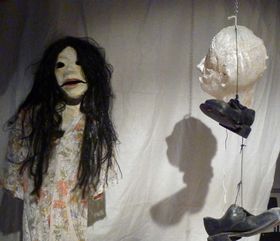 Divadlo Mimotaurus - 'Sedmého dne', photo: archive of Next Wave "I think that the modern Czech art scene is presented abroad mainly through projects which are based on the expressive forms like dance theater and visual theater. I think that it is, of course, difficult for traditional theater performances to have big success abroad because of the language barrier.
"But, for example, such companies as Spitfire company, Teatr Novogo Fronta or others were very successful at the Edinburgh fringe festival. They were awarded some of the main prizes. And I think that this part of the alternative scene has a future and they have a lot to say to foreigners as well."