What do you think of when you hear Czech Republic? Have you visited the country and what were your impressions? Who is your favourite Czech personality? Share your impressions with us. We look forward to your observations.
cr@radio.cz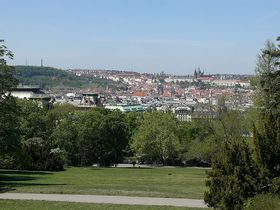 Photo: Chmee2, CC BY-SA 3.0 Every capital city I have ever lived in had its own inimitable charm, but in Prague I feel particularly good. I like the city's many parks, the fact that you can enjoy so much greenery in the city-centre. Prague is so beautiful, I admire it every day. I will never get tired of looking at the city-scape from Prague Castle. I am here for a year, within the Erasmus student exchange program, and I want to make good use of the opportunity to get to know this part of the world. I found that I can travel around the country and to neighbour states by train or bus very cheaply. I live in a flat with several other young Czechs and they are very nice. Unfortunately, I cannot say as much of salespeople and other service providers in the country, they could be more willing.
Hélène, 22, France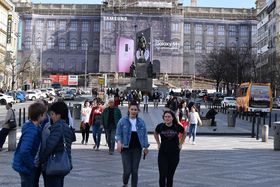 Photo: Ondřej Tomšů
When someone mentions the Czech Republic, I think of the wonderful years I spent there, the country's rich culture and beautiful nature, and taking long walks in the city both when it was covered in snow and on hot summer days. The Czech Republic is a land of contrasts. I remember the people I lived with, the way we shared views, values and cultural traditions. I remember wandering through the city and meetings with friends over a glass of beer. I spent eight years in Prague altogether, first as a child and then as a young woman on the brink of adulthood. Life in Prague is good. Whenever I left the city it was with the knowledge that I would one day return.
Anne-Charlotte, 24, France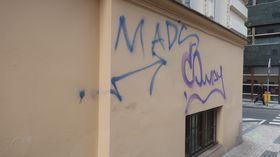 Photo: Lenka Žižková I love Czechia and its people. My grandson is Czech and I'm proud of that. However, I wish Czechs would come together and clean-up the graffiti! Czechia is such a beautiful place.
Randle, America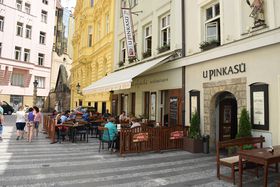 Photo: Ondřej Tomšů
I'm just in Prague for the weekend. I came to visit friends. I've always been curious about Prague and I wanted to try the beer, which is a bit cheaper here. It's nice to visit somewhere different, though the Czech Republic is actually similar to France in a lot of ways. You don't feel totally exotic here, like in other countries, and there are lots of nice things to see. I feel like all the buildings are nice. In France beautiful buildings generally serve institutions. They house embassies and so on. But here they can just be beautiful for their own sake.
Pierre, 21, France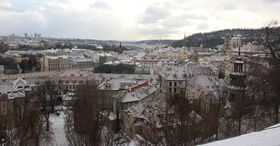 Prague, photo: Štěpánka Budková
I'm visiting friends here. It's my second time in Prague. The last time I was here was in the winter, so the atmosphere was totally different. I was very glad to have the chance to see Prague differently, with no snow and covered in sunshine. I've visited all the tourist spots: Prague Castle and the Prague 'Champs-Elysées'. I'm also glad that I've had to chance to try Prague lemonade, because the last time the weather wasn't that appropriate. But in the summer it's very refreshing and pleasant!
Léa, 21, France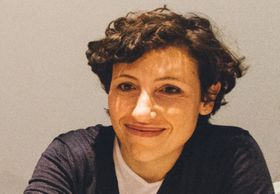 Patricia Dauder, photo: archive of Patricia Dauder
The Czechs seemed quite thoughtful people, profound and they had a certain sadness in them. The language was a problem, as I do not speak Czech and many people did not speak English. And it is true I had some not-so-nice experiences. On many occasions people were rude and impolite, for no apparent reason. I don't know why they were like that, and I asked myself that question many times while in Prague, whether it was because of the political past, or maybe because I'm a foreigner. The problem is that it made my stay a bit bitter, which was a pity because I enjoyed the city and its cultural past.
Patricia Dauder, Spain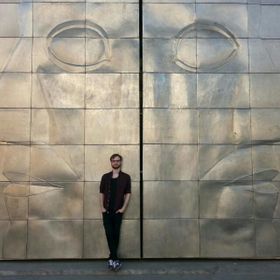 Germán Izquierdo Cámara, photo: archive of de G.I.Cámara My impression is that Czechs are polite, hospitable and kind. Nevertheless, they don't show their emotions too much. They will gladly put you up at their place for a few days, but they're really taken aback if you want to give them a hug.
Germán Izquierdo Cámara, Spain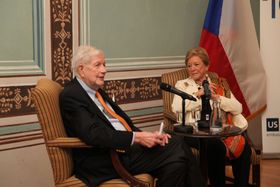 William Luers, photo: archive of US Embassy in Prague
What I like most about Czech people is the humour with which they deal with their lives, their condition, their problems. Czechs will always tell you what their problems are, but they will always do it in a funny way. That's unique. There is no society that I know of that has the ability to turn a really dreadful situation into an amusing moment.
William Luers, former US ambassador to Prague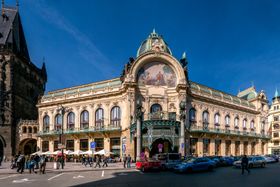 Municipal house in Prague, photo: Thomas Ledl, CC BY-SA 4.0
Prague is a city where art is omnipresent - Art Nouveau, Cubism, Rondocubism... This is the first thing that comes to my mind. The Czech Republic can be proud that it has great artists specializing in each of these areas. This is accompanied by a pleasant lifestyle and a certain feeling of "togetherness" which is doubtless influenced by the size of the city. As for the countryside, which I have traveled through only a little, there is attractive scenery and pleasant people.
Michel Appriou, France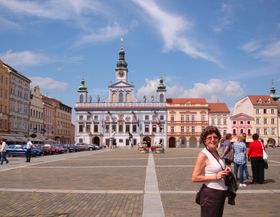 Photo: archive of Monique Rigault
The first thing I remember, even before my first visit to Czechoslovakia, is the blueberry picking that my mother told me about when I was little. The blueberries were gathered with a comb, which seemed really strange to me. After my first visit in 1965, my idea of this country was limited to Prague - this magically charming city, with its many towers and gloomy monuments. I saw Charles Bridge and the Vltava River. I heard Smetana's symphonic poem on the river.
Not until 2010 did I return to the glowing, repaired city of Prague. I went there to rebuild relationships with my cousins and to discover Mariánské Lázně. Since then the spa town and its colorful singing fountains are etched in my memory. I also recall family walks in the woods and mushroom picking.
I also think of what I would still like to discover: the Krkonoše Mountains and the special rocks in Marie Poledňáková's film "How to Remove a Whale's Tooth" and its follow-up "How to get Daddy into Reform School." Since reading Ota Pavel's great book "How I Met the Fish," my thoughts have also turned to the Czech countryside. It is said that this book mirrors Czech nature. I feel as though I am reading about the life and character of my ancestors who remain a mystery to me up until my grandfather who died on French soil in World War One.
I feel an ever stronger need to maintain relationships with my Czech family, despite the language barrier that I am trying to overcome. I must plan a visit to the Czech Republic this year.
Monique Rigault, France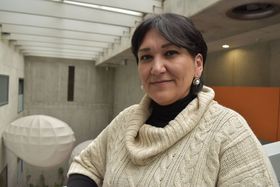 Manizha Kurbanova, photo: Ondřej Tomšů
In Prague I was struck by the considerate behavior of passengers on the metro and trams when young people offer their seats to older passengers. I have not seen anything like it in other European countries or in Russia. For me, a person raised in the Eastern tradition of respecting elders, it made a very strong impression.
Manizha Kurbanova, Tajikistan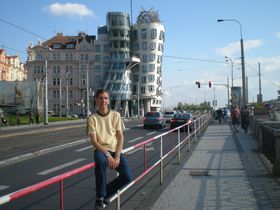 Dancing House, photo: archive of Hugo Longhi
How about a dance in Prague?
All you need to do is take a walk through the city's streets and look for a building that the Prague Guidebook introduces as The Dancing House, or La Casa Danzante, in Spanish. But for me, as well as for most of the locals, it will always be Ginger and Fred.
You will come across it walking along the Prague embankment - standing out with its beautiful and original silhouette it is an endless source of inspiration to me. I can see the couple in my mind's eye – his hand is at her waist and he is turning her in time to the music. The music – which you can hear from every Prague window – you can choose for yourself. I have taken pictures of this building from every conceivable angle, but failed to see it from the inside. I look forward to coming back one day to satisfy my curiosity. This is one Prague experience you should not miss!

Hugo Longhi, Argentina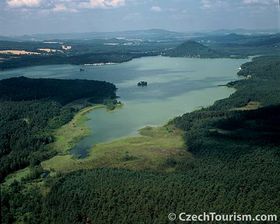 Mácha Lake, photo: CzechTourism
The Czech Republic has been my holiday destination for twenty years and more. In the past I and my family would camp at Mácha Lake, and since 2013 I have visited Prague at least once a year. From there I take train rides to all corners of the country. I love the diverse landscape and have found that towns such as Hradec Králové, České Budějovice, Liberec and Plzeň are well worth visiting. On the road I have encountered many cordial and friendly Czechs who had a ready smile and appreciation for my efforts to speak their language. Plenty of places still remain undiscovered and I am greatly looking forward to spending more time in your charming country.

David Karlick, Germany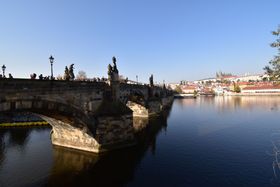 Prague, photo: Ondřej Tomšů
I studied in Prague during college for a semester. This was several years before the name Czechia came to be. I instantly fell in love. The people, the architecture, the food, the beer, and art, the history, everything about it spoke deeply to me. To this day I often dream of Prague and long to return to my favorite place on Earth. I feel a deep connection to that wonderful country and the soul of the people there. A piece of my heart will always be there.

Avery Kennedy, Navy pilot, United States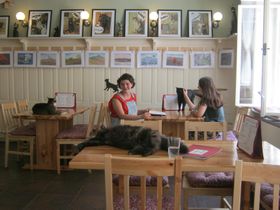 Photo: Dominik Jůn
I have visited Prague over 20 times since 2011; sometimes on route to Slovakia, and others to explore CZ. I like Prague. I often stay in different accommodation on every trip, so I see various areas. I have been on most of the metro, and intend to visit the bits I have missed. I have started helping people at the airport, or on the way into the centre, if they seem lost or confused. People arriving in Prague should consider a trip to Olomouc, Liberec, or České Budějovice! I really like that cat cafes are catching on. I have visited 7 so far, and hope to find more, this year.
Nigel
"Blowing your nose in public was something that shocked me in the Czech Republic", Pascal Rakatomizao, Madagascar.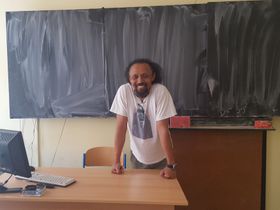 Pascal Rakotomizao, photo: Klára Stejskalová
"You are calm people, pragmatic. You don't trouble yourselves too much with small things, and I think you are honest", Carlos Arbona, Spain.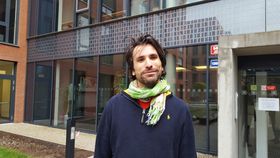 Carlos Arbona, photo: Klára Stejskalová
"I really love Prague. Moscow is a megapolis, a crazy city which draws on all your energy. Here, it's quiet and the people are pleasant. It calms the soul", Maxim Fedorov, Russia.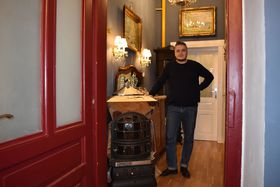 Maxim Fedorov, photo: Klára Stejskalová