Premysl Pitter - a forgotten Czech Schindler
Thanks to Steven Spielberg the name of Oskar Schindler is known the world over, but this programme is about an almost forgotten contemporary of Schindler, who deserves a similar place in history. In the course of the tumultuous 20th century, Premysl Pitter, born in Prague in 1895, did more than perhaps anyone else to help children - Czech, German and Jewish - through some of the most horrific moments of European history.
I'll start in the present day. The Premysl Pitter primary school was opened a few years ago in the industrial city of Ostrava. This school is unique in the Czech Republic in offering special support to Romany children, from some of the poorest and most deprived families in the country. Even though it opened nearly twenty years after his death, it is no coincidence that the school is named after Premysl Pitter - it comes close to his philosophy as an educator and thinker. Regardless of race or nationality or where they are born, he believed passionately that all children deserve love, education and a chance to develop.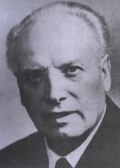 Premysl Pitter Premysl Pitter was the son of middle-class parents, who ran a printing press in the heart of old Prague. As a child it was taken for granted that he would join the firm, and he enjoyed a happy, quiet childhood. But events took a very different course:
As with so many young men of his generation, the turning point in Premysl Pitter's life came in the First World War. As a young soldier he witnessed the horrors of the trenches on the Italian front, and came close to facing a firing squad when he found himself unable to shoot at his fellow men. He returned home a Christian and a pacifist and convinced that having survived the war, he owed the rest of his life to others. When he saw the appalling conditions in which thousands of war widows were left to bring up their families alone and without money, he started to work with children. In the young Czechoslovak state he worked intensively with children from the poor Prague suburb of Zizkov, and in the 1920s met his lifelong companion, the young Swiss teacher and education theorist Olga Fierz. While Pitter was a powerful visionary and thinker, she was extremely practical, and their work soon bore fruit.
Blanka Sedlackova, now 73, remembers as a child going to the Milicuv dum, the centre that Pitter and Fierz opened in Zizkov in 1933. At a time when Central Europe was gripped by ethnic and national tensions, this was an open house to all children:
"At the age of 10 I started going there with my sister. The Milicuv dum was unique in Czechoslovakia and quite possibly in Europe as a whole, certainly from a spiritual point of view. Premysl Pitter was a wonderfully cheerful and good-natured person, with a very direct way with children. We all called him "uncle", and we could turn to him with our fears or problems. When we gathered in the big room, he would talk to us, sometimes using the Bible as his starting point, but without ever giving the impression that he was trying to force some religious message on us. It was broader moral values that were important to him - telling the truth, mutual help. Children would go there regardless of political or religious allegiance."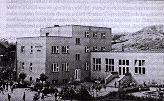 Milicuv dum, from a 1936 postcard The reputation of the Milicuv dum and of its director spread internationally, and Pitter's writings on education and theology became well known. His pacificist views did not endear him to the state, and on one occasion Albert Einstein wrote to Czechoslovak President Tomas Masaryk to appeal for clemency, when Pitter faced a prison sentence for his pacifism.
On March the 15th 1939 the Nazi's marched into Prague, beginning six years of oppression. Seeing that Jewish children were no longer allowed to attend normal schools and take part in cultural activities, Pitter invited them with open arms to the Milicuv dum. Amid the horrors of the Nazi occupation the centre became an oasis of freedom and tolerance. Blanka Sedlackova remembers.
"One day they took him to the Gestapo headquarters and accused him of taking in Jewish children. Pitter was never able to tell a lie. He looked at the man, confirmed that it was true and added - 'From a human point of view I'm sure you can understand why I'm helping these children.' After a long and deathly silence, the interrogator turned to him and said, 'You may go.' It was a kind of miracle. If you don't want to say it was an act of God, well, let's say that it was some kind of higher power."
Tragically, few of the Jewish children survived the war. Despite Pitter's efforts, the Nazi machine eventually caught up with the Milicuv dum, and most of the children were taken away in the transports.
On the morning of the 9th of May 1945, Prague's underground radio announced the liberation of the city. This marked the beginning of the most extraordinary episode in Premysl Pitter's life. The newly established Czechoslovak government put him in charge of helping Jewish children, returning from the concentration camps traumatised and alone. He managed to set up homes in a number of country houses near Prague, in the spirit of the Milicuv dum. But what is almost unimaginable at the time, amid the atmosphere of revenge and hatred, is that he offered sanctuary not just to Jewish survivors, but also to German children. He had seen one of the internment camps in Prague, where Germans were being held prior to their mass expulsion from Czechoslovakia, and this was how he described what he found:
"Thousands of people were forced to sleep on the bare ground without blankets. The very sick and children lay in the blazing sun in unthinkable filth with flies crawling everywhere. The latrines and the paths that led to them were filthy from people with dysentery, who could walk no further and were lying in their own excrement."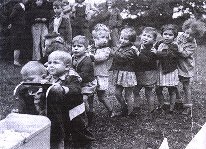 some of the children playing Pitter was horrified to see that the newly liberated Czechoslovakia was repeating the brutalities of the occupier, and he pointed out that the real perpetrators of Nazi crimes had long since fled. Seeing these German children dying of malnutrition and dysentery, he realised that they too needed help, and without hesitation he began to take them in as well. Just weeks after the end of the war Jewish children from the camps, and German children, some arriving still dressed in tattered Hitler Youth uniforms, were being looked after together.
One of the hundreds of children he helped was 14-year-old Jehuda Bacon, a young Jewish boy who - alone in his family - had survived the death camps. Today he is a well-known artist in Israel, and when I spoke with him on the phone, I asked him how he felt when the German children started arriving:
"Strangely enough, people from the neighbourhood were still full of memories of the war and they didn't look at what he was doing with sympathetic eyes, but we children who just came back from the camps, had much more understanding and in a way even compassion, because I believe that if somebody suffered so much he can have another kind of relationship, even to people who made him so much trouble."
And Jehuda Bacon remembers that it was the amazing charisma of Premysl Pitter that made this extraordinary reconciliation possible.
"We didn't trust anybody after the war. Why should people be kind or good to us? And here we met Premysl Pitter, who was for us at that time a symbol of goodness, and he slowly won our hearts and minds. We trusted again and began to believe again in human beings. This was one of his main achievements."
Today there is a tree on the Hill of Remembrance in Jerusalem, to remember Pitter's work at the time.
But this is still not the end of the story. After the communist take-over, Pitter, as a Christian and a pacifist, soon came to be seen as an enemy of the state, and it became clear that in Stalinist Czechoslovakia he faced imminent imprisonment. In 1951, like thousands of his countrymen, he reluctantly fled to Germany. He continued his work for others, working tirelessly for several years at the Valka refugee camp near Nuremberg, where refugees from Stalinist Czechoslovakia first came after escaping the country. He died in Zurich in 1976.
A quarter of a century after his death, Premysl Pitter's legacy has a very real significance, especially as the Czech Republic gradually comes to terms with its own multi-cultural, multi-ethnic make-up. Back at the Premysl Pitter primary school in Ostrava, I ask the school's head, Helena Balabanova, how she sees the significance of Pitter's name in the name of her school:
"When we opened the school, there were people at the official opening who had worked with Premysl Pitter and children he had taken care of. One of them was the priest Mr Simsa, who gave a speech. He said that if Premysl Pitter were alive today, he would be taking care of Romany children. I think it is apt that our school is named after him, because we are trying, at least in our own small way, to follow in his footsteps, to help children who are deprived."
And I shall leave the very last word to Blanka Sedlackova, who knew Pitter for much of his working life:
"Just before he went into exile, he said a wonderful thing to us - 'If you build from iron, the metal rusts, if you build from wood, the wood rots, even marble crumbles in the end. But your material, the soul of the child, is eternal.' That was Premysl Pitter's lifelong creed."