Robert Bosch to receive government incentives of up to 44 million crowns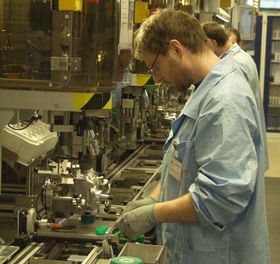 Photo: archive of Robert Bosch German automotive supplier Robert Bosch will receive government incentives totalling up to 44 million crowns to expand production and establish a technological centre at České Budějovice. The government approved the plan on Wednesday, Prime Minister Bohuslav Sobotka wrote on his Twitter account. According to him, the investment could create up to 620 new jobs. The company plans to invest 2.2 billion crowns to expanding production and expanding its development centre. Robert Bosch is the biggest mechanical engineering company in South Bohemia. Last year it increased its turnover by 23 percent to 18.3 billion crowns.
Sobotka: Prague wants balanced trade and investment partnership with Beijing
The Czech Republic would like to have a balanced trade and investment partnership with China, the Czech prime minister, Bohuslav Sobotka, said at the ceremonial opening of the Czech-China Investment Forum at Prague Castle on Tuesday. At present, China exports over 10 times as much to the Czech Republic as it imports from the country. Mr. Sobotka said relations between the two states were developing dynamically, particularly in the engineering sector but also in transport, science and research and healthcare. He also told the Chinese delegates that the Czech Republic was interested in a dialogue with Beijing on human rights.
Economic growth slows in third quarter
The Czech Republic's economic growth contracted in the third quarter of the year, slowing to 1.9 percent year-on-year from 2.6 percent year-on-year in the second quarter. The news stems from a provisional gross domestic product estimate published by the Czech Statistics Office on Tuesday. Analysts had been expecting slightly higher growth in the July to October period.
PPF in shortlist for Plzeňský Prazdroj and other brewing assets: report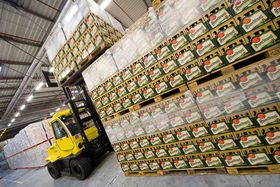 Photo: Plzeňský Prazdroj The PPF group of the richest Czech Petr Kellner is on the shortlist to bid for Plzeňský Prazdroj and other brewery assets of SABMiller in Central Europe according ot Reuters. Other companies featuring on the list are Japanese brewery Asahi, the Swiss investment group Jacobs Holding and investment companies Bain Capital and Advent. The sale off has been sparked by the planned acquisition of SABMiller by Anheuser-Busch InBev with asset sales demanded by the European Commission as a price for the deal to proceed.
Czech finance ministry ups growth figures, sees budget surplus in 2018
The Czech Ministry of Finance has upped its GDP growth expectations for this to 2.4 percent from the previous 2.2 percent. And the forecast for 2017 has also risen to 2.5 percent from 2.4 percent. The ministry expects a modest budget deficit of 0.2 percent of GDP both this year and next. But the budget should swing into a slight 0.1 percent surplus in 2018 and rise to 0.5 percent of GDP in 2019, according to the latest figures released Monday.