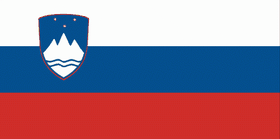 As the iron fence fell the mayor of the Slovene town of Nova Gorica, Mirko Brulc, and the mayor of the Italian town of Gorizia, Vittorio Brancati, announced the construction of a common market place for both Gorizias. It's here on the 30th of April that Slovenia's entry into the EU will be celebrated.
With the fence out of the way the two mayors stepped on to a stone - wall, and said "this is a big event for the people of Gorica/Gorizia", Mirko Brulc said that many things had happened along this border and that only in recent years had it become less of an obstacle to relations between people, who were separated in 1947 by force. At that time Nova Gorica lost its centre and all traffic, business and human connections were cut off. The mayor of Gorizia, Vittorio Brankati emphasized that the fall of the border is a sign of the desire to solve old problems and the historical obstacles, which were separating the two towns. Mr. Brankati not only talked about the physical border but the barriers in our heads. We asked the mayor of Nova Gorica, Mirko Brulc, whether he believes the mental barriers would really fall:
" Of course the border will stay here, here the Slovene people will live and there the Italians will live, but I hope they will respect our culture, our history, our knowledge and that together, we will live a better life in Europe."
Media on both sides of the border showed great interest in the event and around 200 mainly elderly inhabitants of Nova Gorica witnessed the removal of the border. Most of the inhabitants, among them Vida and Bruno Jug, were touched:
Bruno Jug: " This is a great event for us, I am from Solkan and I was born in 1931 and during my best years, when I was young, the iron fence was erected, so we stayed without a centre, without entertainment, we had nothing."
Vida Jug: "I was here in these block of flats when they put up the wire and now that they are throwing it down, I am here again."
With the symbolic removal of the iron fence the construction of a common market of both Goricas/Gorizias has begun. A monumental mosaic will remind people of former times, which were sometimes unfriendly and hard for those who had to live day after day with their town divided by an iron fence.