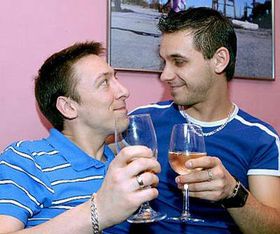 Photo: CTK It was indeed a close shave - just one vote less would have spelled the end of the bill on same-sex registered partnerships. But instead gays and lesbians celebrated upon the news that they will now be able to enjoy many of the rights that married heterosexuals in the Czech Republic simply take for granted. One of those celebrating is Katerina Benova:
"We are, of course, very happy and we are a bit shocked as it was quite unexpected because when we came here today we first heard that there were 110 votes [in favour of the law], then they told us that there are only 97 votes and we just didn't know how many people would vote for the bill. So, we're having a little celebration right now and there will probably be a big party on Friday and Saturday."
Among other things, gays and lesbians will now be allowed to enquire about their partner's state of health, inherit their partner's property, and refuse to testify against their partner in a court of law. Homosexual couples will also be allowed to raise children but not adopt them.
"My name is Slavomir Goga and I am the spokesperson for the gay and Lesbian League. I'm now a little euphoric after all of the day's events."
So what's going to happen next?
"The law has been passed but it will be another three months before it takes effect. We will use these three months to get the public acquainted with the law. This means that mainly those couples who would like to enter in the registered partnership will be told what their rights and responsibilities will be. Then, in mid-June, the first couples will be able to enter the registered partnership."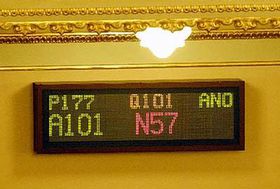 Photo: CTK Have any of the couples approached you already?
"Several couples have already contacted us. One couple, for example, asked us whether the law will include a couple where one of the partners is a foreign citizen. So, they were practical questions that we faced and had to answer."
What's the answer to the question about the foreign partner?
"The condition is that at least one of the partners has to have Czech citizenship. But the problem is that the law does not include some rights that married couples enjoy. So, the person who is a foreign citizen will not automatically gain Czech citizenship and his citizenship procedure would also not be shortened. So he would still have to apply for citizenship as if he were not a partner."
But it was a long and hard battle. Six previous attempts failed over the last decade. The bill on same-sex registered partnerships finally passed through both houses of Parliament in December, only to be vetoed by President Vaclav Klaus a few days later. Mr Klaus' main objection was that the state "would interfere too much in the private lives of residents". The bill was then sent back to the lower house, where a majority of at least 101 votes was needed to override the presidential veto.
But with a bill as controversial as this one, on which deputies would not vote strictly along party lines but according to their own conscience, it was unclear whether the majority in parliament would vote for it. The second-biggest party in the ruling coalition, the Christian Democrats, strongly opposed the bill arguing that homosexual partnerships would be placed on an almost equal footing with traditional heterosexual marriages, undermining the importance of the family as an institution. It took Social Democrat Prime Minister Jiri Paroubek a great deal of lobbying for his party colleagues to support the bill. And, some opposition Civic Democrats, who originally supported the bill, threatened to vote against it: they accused Mr Paroubek of turning it into a party political issue. In the end, 101 votes and not a single vote more were what the bill got.
Civic Democrat Ivan Langer opposed the bill:
"Well, it's democracy and I have to accept is as a reality. I don't think we need a special law. We can improve the lives of these people with an amendment to the Civic Code that will give them their rights."
But Social Democrat MP Jan Kavan was delighted of the outcome:
"I'm glad at the result, although I admit that it was touch and go. This legislation, although far from being perfect, at least reduces the certain unfavourable conditions and certain form of discrimination of this four percent minority. I don't think the legislation contains any seeds of the kind of apocalyptic future, which many of the e-mail messages that many of us received during the last few weeks contained when we were told that this law will undermine the whole role of the family, which is the basis of the society that we live in and that it would lead to the break down of interpersonal relations that will be the beginning of Sodom. I think all of this is exaggerated, including the warning that this is the first step towards the right of such couples to adopt children."
Opinion polls suggest that just over 60 percent of Czechs approve of gay marriages. However, less than a third of them would be in favour of a homosexual couple adopting children. So how do ordinary citizens feel about the new same-sex registered partnership law? Radio Prague's Chris Jarret took to the streets of Prague: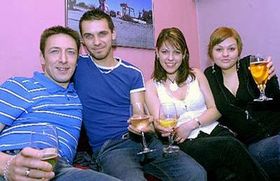 Photo: CTK Woman: "I think it's quite a good thing, yes. I have many friends among these people and I think it's very good."
Man: "I agree with this. I am not a homosexual but if they asked for this registration then why not. I'm not against it."
Woman: "I think if two people are together and are of the same sex, they have a right to be together."
Man: "I agree with this law. I think that gays must have the same freedom as the majority of the population."