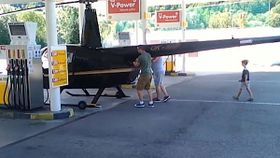 Photo: TV Markíza A Czech helicopter pilot caused a stir in a small town in neighbouring Slovakia when he landed in a nearby field and rolled his helicopter to the local petrol station to fill up, before flying off. The incident happened in the town of Valaská and made the evening news on Slovakia's Markíza TV, thanks to the fact that dumbfounded drivers recorded the incident on their mobile phones. The Czech news site novinky.cz managed to trace the pilot who confirmed the incident. "I needed fuel and the airfield was too far away. It's not something that happens a lot, but in an emergency it is possible to use regular fuel if you have the right additives. I warned the station's employees in advance about what I `needed to do and there was no problem or threat to public safety" the pilot told novinky.cz The news site says that there is increased interest among affluent Czechs in small helicopters and light planes which are a fast and more efficient means of transport than cars.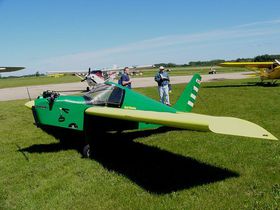 Illustrative photo: Ahunt, Public Domain This is confirmed by another story that has made Czech headlines: a 45-year old locksmith from a small Czech village built a plane in his spare time so as not to have to spend 14 minutes driving to work. He spent two years building his ultra-light plane Vampira, based on the US Mini-Max design. The plane has an open cockpit and a three cylinder engine, going at a maximum speed of 146 kms per hour. Even so, it has cut František Hadrava's morning trip to work by a half. The locksmith, who works at a small factory making machine tools for the forestry industry in Ckyne, has become a local attraction. Every morning he lands on a nearby meadow and rolls the plane to the factory's parking lot for employees. After work he'll roll it back and fly off to his home which is now conveniently just seven minutes away.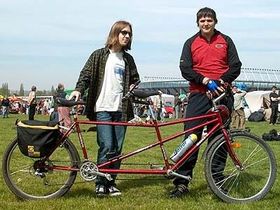 Illustrative photo: Jan Rosenauer And speaking of various means of transport – another unusual sight you may see on Czech roads or further afield is the so-called "tandem" or twin bike. If you do see it, steer clear of it, not everyone has mastered the art. Novinky.cz reports that two Czechs riding a twin bike in Bratislava lost control and crashed into a parked Mercedes. Luckily the damage was only around 100 euros.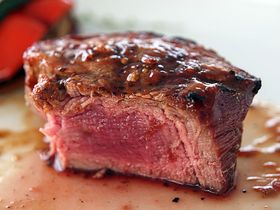 Illustrative photo: Darko Skender / freeimages The famous Czech-born shoe magnate Thomáš Baťa, who established on of the world's biggest footwear companies starting with a small enterprise in Zlín in 1894, is one of the most respected industrialist in the country's history. Ahead of his time, Bata invested not only into his shoe factory, which started out with 120 employees, but into their wellbeing, building above-standard housing for them in the town of Zlín and even establishing nurseries for their children. His employees were seen as having a privileged position and people aspired to work in his firm. As a result he has become something of a legend in Czech history and the standard of care he provided for his employees still evokes respect. Last week a number of companies in the town of Zlín featured Bata's menu in their canteens. Employees were reportedly delighted with the idea since it meant a lot of beef steaks and beef in many other variations. Bata's cooks reportedly used beef a lot, it was cheap and Bata needed cattle hide for his footwear production. A present-day employee who tasted Bata's Vienna beefsteak was ecstatic about his new canteen experience saying the food was just like his mother and grandmother used to make. It could be bosses are having second thoughts about the wisdom of bringing back Bata's menu.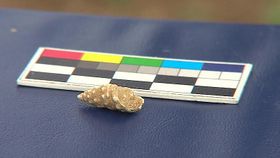 Photo: Czech Television Czech archeologists are excited about a recent find near Brno where a team of workers uncovered what they believe to be one of the oldest ornaments found in Europe. They discovered two dozen mollusk shells and bits of shells that appear to have been part of a necklace. The head of the project, Petr Škrdla, from the Czech Academy of Sciences, says there is no doubt they were part of an ornament. "They were cut, perforated and there are remains of red paint on them. From the first tests conducted, we believe they came from the Vienna Basin, located some 30 kilometers away. Further tests are now being conducted on the artefacts but if the team's assumption proves correct the pieces of necklace uncovered would be 43,000 years old.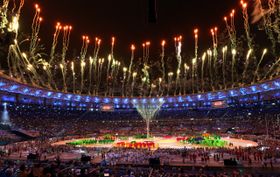 Photo: CTK Interest in the Czech Olympics House in Rio surpassed all expectations, according to the head of the Czech Olympics Committee Jiří Kejval. "We expected around 20,000 visitors and even that was considered an ambitious goal. In reality the Czech Olympics House had over double that number," Kejval says. According to the project manager of the Czech Olympics House Blanka Konečná, the crowds were attracted by Czech beer, Emil Zátopek's electric-powered life-sized legs created by artist David Černý and scooters which became an instant hit with both children and adults. "I think we really left our mark in Rio," Kejval said.