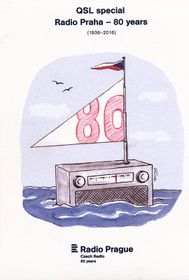 Hello and welcome to Mailbox, Radio Prague's monthly programme for your views, questions and comments. Thank you for all your reception reports, Facebook comments, quiz answers and email messages that you've sent us over the past four weeks.
First of all, we have an important announcement to make:
On the occasion of its 80th birthday Radio Prague is announcing a competition for listeners and website visitors. The main prize is a four-day stay in Prague for two, with accommodation and transport costs covered. Write and tell us what you think Radio Prague will be reporting on in 80 years' time. A jury made up of Radio Prague representatives will select the most original answer. The main prize is a four-day stay in Prague for two at Savoy Hotel in the city centre. The cost of plane tickets will be covered. Twelve others will get runner-up prizes. Please send your entries to:
Radio Prague
Vinohradská 12
120 99, Prague 2
Czech Republic
or by email to cr@radio.cz. They should reach us by July 15, 2016.
The results of the competition will be posted on Radio Prague's webpage on August 31, 2016.
We look forward to hearing from you and seeing you in Prague!
And now let's take a brief look at your e-mails.
Roger Chambers from New York sent us this: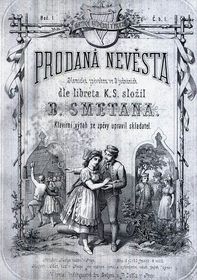 'The Bartered Bride' "Thank you so much for your wonderful program this evening on Smetana and 'The Bartered Bride'. I visited the Smetana Museum on the River and Dvořák's home, as well as Bertramka, Mozart's residence when he was in Prague.
"Now I am listening to Radio Prague in French, at 0430 UTC on my Grace Digital Radio. Reception is crystal clear, and I especially enjoy the variety of music on Sundays in various languages..., pleasing to listen to something different, not readily available on domestic radio.
"… I really enjoy the music programs on Sundays, and a bit less often now than in the 1970s and 1980s when I listened to Radio Prague perhaps 5 nights a week on 7.345 kHz, and 11.900 kHz, and a couple other frequencies. Music for your tape recorder was a favorite, with Czech and Slovak folk music."
Our faithful listener S J Agboola from Nigeria sent us this message:
"This is to acknowledge [with appreciation] the receipt of another parcel that you sent to replace the one that got lost in transit. It really impressed me. I am promising again that I and my family will continue to remain ardent listeners of Radio Prague. I must also add that there should be a mechanism to prevent the pilfering of your lovely prizes on transit."
And Mahesh Jain from India sent us a question:
"Here in India the month of May and June are month of school summer holidays. I am a teacher so I can enjoy a few days out of these holidays as well. The rest of the time during these holidays is devoted to remedial teaching of senior classes, summer camp, teacher training and other work. What is the school summer holidays schedule in the Czech Republic and what's the overall responsibility of teachers there? Just curious to know..."
Most schools in the Czech Republic break up on the last weekday of June and start again on the first weekday of September – July and August being the warmest months of the year. Teachers usually gather again one week before school starts to prepare for the new school year.
Thank you for all your feedback and now let's hear your answers to last month's quiz question: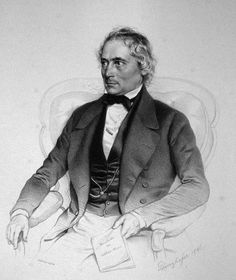 Adolf Martin Pleischl Chun-quan Meng from China writes:
"Adolf Martin Pleischl was a chemist and medical doctor, who was born in Hossenreith, Bohemia on 10 October 1787, and passed away in Dorf an der Enns on 31 July 1867. He conducted the first scientific analysis of the water of the Moldau River, city fountains, and drinking water. He also studied the thermal springs of Bohemian spa sites."
Hans Verner Lollike from Denmark wrote:
"From 1806 he studied medicine in Prague. In 1815 he graduated as a doctor of medicine and continued his studies in chemistry. In 1821 he graduated as a professor of general and pharmaceutical chemistry, then lectured at the Vienna University till 1848. He made a significant contribution to the development of Czech spas, when he made analyses of springs in the North Bohemian spas. He was a propagator of the healing power of spas."
Radhakrishna Pillai from India sent in this answer:
"In 1819 he was appointed professor of general and pharmaceutical chemistry at the University of Prague. Under his leadership the chemical pharmaceutical establishment in University of Prague was completely renovated and expanded. In 1838, he was appointed to the University of Vienna, where he worked as a professor of general and pharmaceutical chemistry till 1848. He made the first water analysis [the water of the Vltava River, the tap water and the water of the public fountains of Prague a chemical analysis] in Prague… He died in Dorf an der Enns in Lower Austria on 31st July 1867."
And finally this answer from Jayanta Chakrabarty from India:
"Pleischl realized the benefits of chemistry for the most indispensable human needs. As a medical doctor and humanist at heart, he was appalled at the sufferings of gallstone patients and thus began to study the history of this strange disease and conduct its chemical analysis. Most of his doctrines have been preserved in the Vienna Technical Museum. For his indelible contributions to mankind and the scientific world he was awarded the Knight's Cross of the Franz Joseph Order. The Austrians have honoured and immortalized his name in Pleischlgasse in Simmering, the 11th district of Vienna."
Thank you so much for your answers and this time the Radio Prague prize goes to Radhakrishna Pillai, from India. Congratulations! And for the rest of you who haven't been lucky this time, we have a brand new quiz question.
This time we would like to know the name of the Czech engineer and industrialist who gave his name to the best-known Czech car make.
Please send us his name by July 14th to the usual address english@radio.cz which as you know is also the address for your queries and reception reports. You can also follow us on Twitter and Facebook. We'll be looking forward to your feedback and until next month, happy listening and take care.