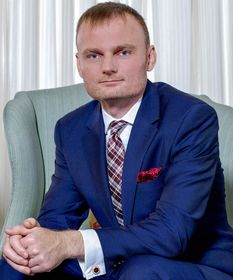 Pavel Čmelík, photo: archive of Pavel Čmelík "I'm an electrical engineer but I did an MBA and I liked it quite a lot so I dropped the field of electrical engineering and started doing my own business.
"Before that I worked for multinational companies such as Procter and Gamble, Morgan Stanley, Deloitte and Arthur D. Little.
"Then about five years ago I decided to do retail – and that's what we are doing right now."
I understand you spent some time in Australia. What were you doing there? And what did it give you?
"It gave me a lot. I went to Australia back in 2000. I wanted to learn English. But I'm generally a lazy person, so it was the only way to learn English in a solid way [laughs].
"It seriously gave me a lot. First I worked three jobs at the same time. I had to make my own living.
"I believe it's probably the best experience I've ever had."
In May of last year you opened Hamleys here in the centre of Prague. What led you to open Hamleys?
"I like challenges and my team all like challenges. I worked in London and when I was there I was amazed at what Hamleys stands for.
"It's a fantastic concept, it's a fantastic building in London – it's been there for about 250 years now.
"I was always thinking it would be fantastic to have such a concept in Prague.
"Then we just went for it and it's here now."
Obviously it's a famous brand – it's among the one or two most famous toy stores in the world. What form did the negotiations to get the franchise for Hamleys take?
"It took a while. But when I look at the concept – its size and the history – it didn't take too long, I would say.
"It was about a year and a half to manage everything.
"Hamleys is something between a fun park and a huge toy shop – we thought that was the future of the toy and entertainment industry."
"What helped a lot was that we were already doing British franchise businesses with T.M. Lewin and Barker shoes.
"So the top management of Hamleys came and looked at our current business and they thought we were the right partner for it."
Hamleys is enormous here in Prague. I presume it's unparalleled in this part of the world. Why go so big?
"We always thought that we needed to enter with something which is unique, fantastic.
"And size is one of the things which really matter when you do the launch of a new brand.
"This concept is quite new. It combines selling toys and selling entertainment and education.
"It's something between a fun park and a huge toy shop – and we thought that was the future of the toy and entertainment industry."
Do you sell a lot of Czech toys? And are there a lot of Czech toys that are attractive to your customers?
"We do sell Czech toys. I think it's about 7 to 10 percent.
"The most attractive are wooden toys and obviously the typical Czech character the Little Mole, or Krtek – these are our best sellers."
Wouldn't you like to sell more Czech products?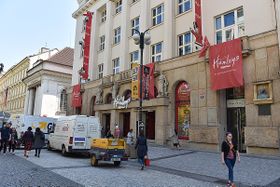 Hamleys Prague, photo: Filip Jandourek "Well, we would love to. The problem is that the industry is in a funny or strange situation.
"We believe that the producers need to understand the full value chain of selling toys.
"Many times the extremely low margin doesn't allow us to sell these toys. But I do believe we will be increasing the share of Czech toys."
You're right in the centre of Prague, where obviously there are a lot of tourists. Who are your customers? Do you have a breakdown of how many are Czech, how many are visitors?
"Around 54 percent of our customers are tourists. Two-thirds are from Europe and the other third are from around the world.
"The rest obviously are locals. We have a lot of local tourists, people who don't live in Prague or even near Prague.
"They live in cities like Brno or Ostrava and we have become a destination and a sort of reward concept for kids."
Hamleys is a rather lively place and for an older person like me it can be almost disorienting. There are always things going on: there's music, people demonstrating toys, people in fairytale costumes. Is that a deliberate strategy, never having a quiet moment in the shop?
"Yes, it is. And to be honest, our customers are your kids. Your kids are part of our team and they help us to sell products to you.
"So we try to make this place as fun as we can.
"We would love to sell more Czech toys. But many times the extremely low margin doesn't allow us to sell them."
"It's quite tough. Recently there has been basically zero unemployment in Prague and we really, really struggle to find good quality people who like entertainment, who are not afraid to talk to customers."
You mentioned that before Hamleys you opened a branch of the UK shirt- and suit-makers T.M. Lewin. Also you have a branch of Barker Shoes, classic British footwear. Who are those shops aimed at?
"They are aimed at pretty much everybody who is in the middle to upper class.
"We believe these products are mass-market products, even though I must admit Barker Shoes is expensive on the local market. We think it's a niche.
"We try to teach our customers that once you buy a proper suit you should also buy proper shoes. But it's a long run deal, I would say."
Having lived abroad, how do you view the way Czech men dress? Shoes in particular are I think one area where Czech men don't do very well.
"You are right, but I would say it's definitely getting better. You see more and more shops like ours.
"But there is still a huge gap between the standard West European quality of how men dress and the local one.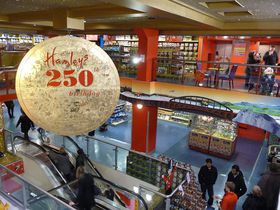 Hamleys London, photo: Lewis Clarke, CC BY-SA 2.0 "It's because of history. In the past 40, 50, 60 years, mainly during communism, there was no-one telling you what good quality shoes were.
"It will take decades to change that. But when I compare it with 2011, when we started, it's much better now."
When Czech customers buy classic British-style clothing or shoes, what's the attraction for them?
"I think they like that they look good.
"What's good about the UK market is that it's so tough. There are so many people fighting for market share.
"So if a brand is successful on the market, I believe it can be successful pretty much anywhere.
"The best benefit of T.M. Lewin is that you get very good value for money and you look good."
Regarding price, many Czechs I think have the sense that if they buy foreign products here they cost more than they do in the countries where these companies are from. Is that true?
"It is very true. And I think it applies to the majority of brands.
"The reason is very simple: It's just that the market works differently.
"Whatever you sell in the Czech Republic or Eastern Europe, the volumes are much lower. Therefore the margin usually needs to be a little bit higher so you can make the business case work.
"Very few customers know the quality of shirts and what that means from the technical point of view. For the majority of price is what they look at in determining the quality of the shirts they are buying."
"Because the rents are not that much lower in Western Europe.
"Today people's salaries are very similar across Europe. Because Eastern Europeans work in Western European countries and the salaries are pretty much the same.
"The advantage of Western European cities is that they push through much higher volume – and therefore their business case is different."
So you understand people who, like me, like to buy clothes when they travel away from the Czech Republic?
"I definitely understand them. But I think with our brands you actually get much better customer service than in the UK.
"If you're a man who would like to dress nicely and you need advice or you don't feel comfortable buying something in the UK, even though it's cheaper, you come to us and you get the service.
"One of your aims in the long run is to teach people that very good customer service actually costs money.
"We're not angry with anyone who buys things in the UK. We believe that if you add the customer service and the comfort you get to the UK price, you get pretty much the same value at the end of the day.
"Frankly speaking I think the care that we provide to customers is actually better here than in the UK."
I think many people will be surprised to hear you say that.
"They might be, but it's actually the case.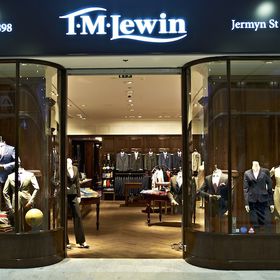 Photo: archive of T.M. Lewin "People should try to buy cheaper things in the UK. I think often you still have very nice people serving you.
"But in terms of technical knowledge or the time they spend with you, I would say we do much better.
"That comes back again to the business case. Because the number of customers, the volume we push through, is lower.
"We can actually spend more time with one customer to give him much better advice. He can try on more suits, we can do much better tailoring adjustments, etc.
How concerned are you about Brexit? Because I presume it will at least make your products more expensive to import.
"Actually, I'm not afraid at all. What's clear today is that the majority of all British products are not produced in the UK.
"They are usually imported from Asia or cheaper labour European states such as Romania, Hungary, etc.
"So I think that if there is any problem later on we will just have to change the logistics and the way we operate.
"But I don't think it would have a negative influence on the price or accessibility of these products."
How did the move to weaken the Czech crown at the end of 2013 impact your business?
"It caused a very significant negative influence on our P&L, because we pay rents in euros so overnight our rents increased by about 12 percent.
"Also obviously we buy stock in foreign currency, which is either euros or pounds, and that added CZK 5 million in extra cost to our purchases."
But you were telling me earlier that the increase in prices benefited you in a way.
"Yes, it did. We obviously had to increase the retail price for customers. Otherwise we would already be out of business.
"And we found out that the customers started believing even more in our shirts when they saw that the price was getting close to the brands that they knew, such as Hugo Boss.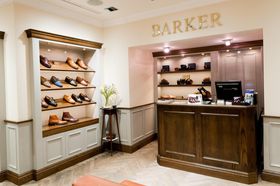 Photo: archive of Barker Shoes "Even though we have more expensive prices than in the UK, we still have the best value for money.
"And since then we have more customers than we had before, actually."
So the perception that it's a higher quality product because it costs more led to higher sales?
"Yes, it did. Basically very few customers know the quality of shirts and what that means from the technical point of view.
"I think that for the majority of customers price is what they look at in determining the quality of the shirts they are buying."