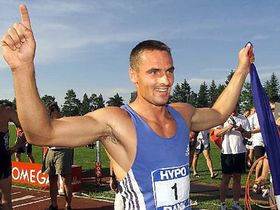 Roman Sebrle, photo: CTK The Czech decathlete Roman Sebrle has won the decathlon at Goetzis, Austria for the second year in a row. Sebrle's score of 8,800 points was the second best of his career. Goetzis's Moesle stadium is a lucky venue for the 27-year-old - it was there that Sebrle became the first decathlete ever to break the mythical 9,000 points barrier a year ago. And in three disciplines he did even better this time round. Sebrle, who now leads the world table, said he was satisfied with the result, and looking forward to the next important meeting in Munich.
The legendary Czech ice hockey goaltender Dominik Hasek has helped his NHL club the Detroit Redwings to the final of the Stanley Cup. Hasek kept a clean sheet as the Redwings won game seven in their Western Conference play-off series against Colorado 7:0. It's an amazing, wonderful feeling, said Hasek, who is hoping for victory over the Carolina Hurricanes in the final series and his first ever Stanley Cup ring.
The top Czech tennis player Jiri Novak has been knocked out in the third round of the French Open at Roland Garros, Paris. Novak, who was seeded 14th, was beaten in three sets by 20-year-old French wild card Paul-Henri Mathieu on Saturday. Mathieu took the match 6:4 6:4 6:3. I was the favourite on paper, said Novak afterwards, but when you reach the third round you can't say who's the favourite and who isn't.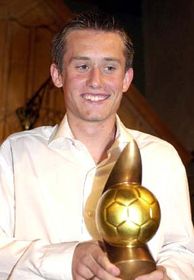 Tomas Rosicky, photo: CTKThe Borussia Dortmund midfielder Tomas Rosicky has won the Golden Ball award for the Czech footballer of the year, in a poll of the country's sports journalists. Rosicky, who is 21, won a Bundesliga champions medal in his first season in Germany, and also helped Dortmund reach the UEFA Cup final. Unsurprisingly Liberec manager Ladislav Skorpil was named coach of the year, following the club's historic first league title. Goalkeeper of the year is Olomouc's Martin Vaniak and Slavia's Rudolf Skacel - who played so well to help the Czech Under 21s to win the European Championships for the first time ever - was named discovery of the year. Indeed the whole Under 21 team were given a special award.
After months of speculation, Jiri Stajner is after all leaving Czech champions Liberec for the German club Hanover, subject to a medical. Stajner, who recently turned 26, was the top-scorer in the Czech league last season. And Dusan Uhrin, who managed the Czech squad which reached the final at Euro 96, has joined the Swedish club AIK Stockholm.
One of the oldest rowing races in Europe, Prague's Lord Mayor's race, was won by the Czech Army's Dukla team on Sunday. It was the 89th year of the race, and Dukla have won the race for an amazing 23 years in a row.