Czech climber conquers Everest to fulfil childhood dream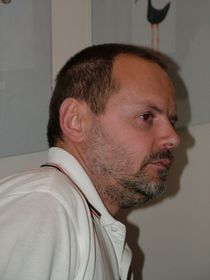 Climber Miroslav Caban, photo: svajcr, CC 3.0 license On May 17, the Czech climber Miroslav Caban fulfilled the dream of a lifetime when he reached the peak of the world's highest mountain, Mount Everest. What's more Mr Caban, who is 38, did it the hard way, without using oxygen, which is much harder on the body. He told me how it felt when he achieved his boyhood dream.
"The feeling when I reached the top was fantastic. I spent an hour there because the weather was good. I experienced a whole range of emotions, including a kind of restraint because you know you have to go back down. A mix of emotions, but overall it was a feeling of great joy, and great satisfaction. After years of physical and mental preparations it's so satisfying to stand on the peak."
But conquering the world's highest peak is demanding to say the least. I asked Miroslav Caban, who lost 13 kilos in six weeks on the trip, what kind of mental strength he needed to fulfil his lifelong dream.
"Mental strength? You need great, great mental strength, because there are so many moments when you say to yourself I've had enough, I'm going back, I can't go on any more, I don't have what it takes. Then you really need a lot of mental strength to overcome those kind of thoughts and to find the inner strength to reach the peak."
And climbing may be Mr Caban's passion but it is not how he makes a living - he owns a wine cellar in Hustopece, near Brno in Moravia.
Skier Neumannova should get Olympic medals as Russia is disqualified
The Winter Olympics are of course long over, but it appears that the Czech cross-country skier Katerina Neumannova is going to receive a brace of belated medals. The Russian skier Larisa Lazutinova has been struck off the results lists from the Salt Lake City games for failing a drugs tests. The question remains as to what the International Olympic Committee will do with the returned medals, though it would now be a major surprise if Neumannova did not receive the silver for the 15 kilometres free and bronze for the combination.
Hasek's Red Wings lose first Stanley Cup play-off
The legendary Czech ice hockey goaltender Dominik Hasek's bid to win a first Stanley Cup ring has not got off to a good start. Hasek's NHL team the Detroit Red Wings were beaten 3:2 at home by the Carolina Hurricanes in the opening game of the Stanley Cup final play-off series on Tuesday.
Sparta Prague now have three quality goalkeepers
Sparta Prague have signed goalkeeper Petr Kouba from Jablonec. It will be Kouba's second spell at the club; after reaching the final of Euro 96 with the Czech team, Kouba left Sparta for Spain's La Coruna. Sparta now have three quality keepers, so don't be surprised if Petr Cech or Michal Spit - or both - leave the club in the near future.