In September Radio Prague's Ian Willoughby travelled to New York to record a series of interviews with prominent Czechs in the city and others with notable connections to the Czech Republic. Now all of his New York pieces have been gathered here in one place. Enjoy!
Madeleine Albright: Given their own histories, I'm stunned by CEE states' treatment of refugees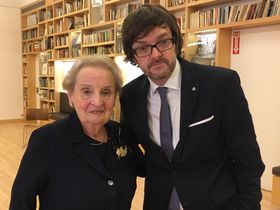 Madeleine Albright with Ian Willoughby, photo: archive of Ian Willoughby Having served as US secretary of state from 1997 to 2001, Madeleine Albright ranks as one of the most accomplished of all Czech-Americans. I got to speak to the Prague-born politician recently when she was special guest at the Reality Czech evening in New York, organised by the Bohemian Benevolent and Literary Association and the Václav Havel Library Foundation to mark the centenary of the founding of Czechoslovakia. Our conversation eventually turned to that landmark anniversary – but it began with Secretary Albright's recently published book Fascism: A Warning. More...


Honour Havel's legacy by following his principles, Albright tells students at Columbia bust unveiling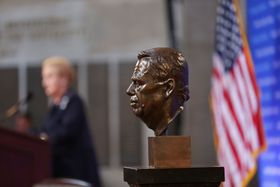 Photo: courtesy Columbia University Václav Havel has just received a major honour, with the unveiling of a bronze bust of the late dissident turned president at Columbia University in New York. Speaking at the ceremony, Havel's friend Madeleine Albright said he would have been alarmed at some aspects of today's world – but would not have succumbed to despair. More...


Martina Forman: "Miloš was a great, great man – great company"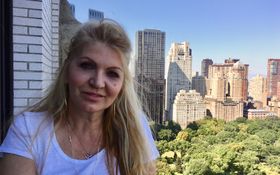 Martina Forman, photo: Ian Willoughby Novelist and screenwriter Martina Forman settled in the United States in the 1990s after meeting her husband, the great film director Miloš Forman. When we spoke at her apartment overlooking Central Park, the conversation took in her life between New York and Connecticut, her twin sons' connection to all things Czech, and her husband, who passed away in April at the age of 86. More...


The Bohemian National Hall: NYC's "focal point of everything Czech", in the early 20th century and today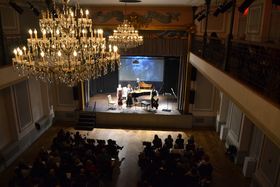 Bohemian National Hall, photo: archive of Czech Centre in New York New York's Bohemian National Hall brings together the most important Czech institutions in the city. The Czech Center, Consulate General and other organisations share the magnificent five-storey preserved building, which representatives of other mid-sized states must envy greatly. More...


Norma Zabka: Attending Sokol New York since the early 1930s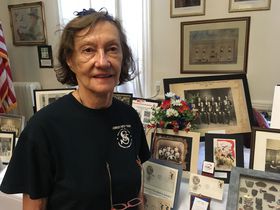 Norma Zabka, photo: Ian Willoughby Norma Zabka was born 90 years ago in the heart of what was then the heavily Czech district of Yorkville on Manhattan's Upper East Side. Though now possessed of a soft but distinctive New York accent, she actually spoke only Czech for the first few years of her life, despite the fact her parents had been born in the US. Since her early childhood Norma has been attending a branch of the Czech Sokol gymnastics organisation on East 71st St., which she also headed for over a quarter of century. More...


Suzanna Halsey: I organised New York celebration of Velvet Revolution from offices of Penthouse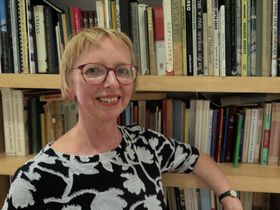 Suzanna Halsey, photo: Ian Willoughby Suzanna Halsey is one of the most active members of the Czech community in New York and describes herself as an inveterate organiser. Alongside teaching Czech and other work, she is on the board of the New York chapter of the Czechoslovak Society of Arts and Sciences and is involved with Friends of Czech Greenways. More...


Photographer Marie Tomanová: These people bent down and saw me in the tree trunk and I was like, Hi!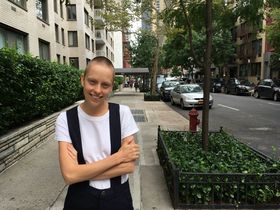 Marie Tomanová, photo: Ian Willoughby US-based Czech photographer Marie Tomanová is known for her striking portrait work and often nude images of her own body interacting with nature. Right now Tomanová's career is on the up and up. She made a splash in New York with a solo show this year, has her first monograph coming out soon and is also set to be the subject of a documentary. More...


Czech Center chief Barbara Karpetová: If you commit yourself to the mission, New York will pay it back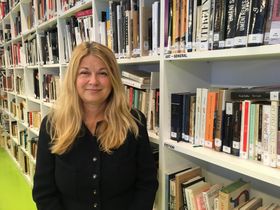 Barbara Karpetová, photo: Ian Willoughby When I visited New York in September I heard nothing but praise for the work of the city's Czech Center in recent years. Much of the credit for this belongs to Barbara Karpetová, its tireless director, whose tenure is now coming to a close. The Czech Center is located in the magnificent Bohemian National Hall on the Upper East Side of Manhattan. More...


Paulina Bren: There was a large spectrum of collaboration during normalisation – just to function, you had to be somewhere on it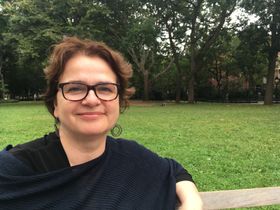 Paulina Bren, photo: Ian Willoughby In her book The Greengrocer and His TV: The Culture of Communism after the 1968 Prague Spring, historian Paulina Bren offers fresh perspectives on various aspects of Czechoslovakia's normalisation period. These include how the Communists used TV serials to get their message across at a time when the nation, forced to accept the re-imposition of relatively hardline rule, largely turned inward. She makes particular reference to TV writer Jaroslav Dietl, creator of some of the most popular shows of that era. More...


Gail Papp on Václav Havel among New York's hippies – and under house arrest in communist Czechoslovakia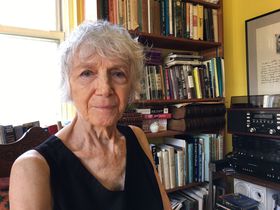 Gail Papp, photo: Ian Willoughby Taking advantage of relative liberalisation at home, the young Václav Havel visited New York in the spring of 1968 for the US premiere of his second major play, The Memorandum. It was staged by the Public Theater, which had just had a huge hit with Hair and was headed by director Joseph Papp. He and his wife Gail Papp got to know Havel at that time – and later visited the then dissident at his country home in communist Czechoslovakia. More...


Majda Kallab Whitaker: Dvořák's recognition of African-American influence was "very controversial"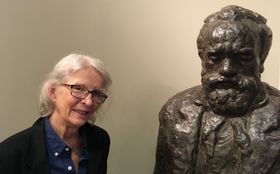 Majda Kallab Whitaker, photo: Ian Willoughby The Dvořák American Heritage Association is one of a number of organisations based at the Bohemian National Hall in New York. Its impressive Dvořák Room houses a rich array of items connected to the composer, who did ground-breaking work during a stay in the city in the 1890s. More...


Véronique Firkusny: In my mind, Czechoslovakia was a magical realm – a mid-80s visit left me heartbroken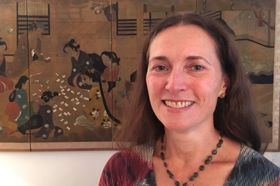 Véronique Firkusny, photo: Ian Willoughby Though forced to live in exile for most of his life, the world-renowned pianist Rudolf Firkušný maintained strong Czech traditions at his home in the United States. Indeed, his daughter Véronique Firkusny's mother tongue was Czech and today she translates leading authors from her parents' homeland and helps opera singers get to grips with Czech-language works. More...


Paul Ort: Three times the Gestapo came looking for my brothers and I – three times my father fobbed them off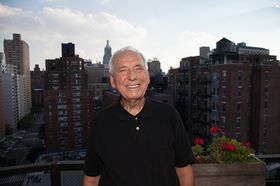 Paul Ort, photo: Marie Tomanová Dr. Paul Ort has enjoyed a great career as an orthopaedic surgeon since settling in the US in the 1960s and says the Communists did him a major favour by making him leave Czechoslovakia. As he tells it, the former Pavel Ort was forced to dissemble for many years before his escape to freedom. His grandfather and father were also doctors and he had to conceal his middle class origins if he was to follow in their footsteps under the Communist regime. More...


Alex Zucker: I don't want to translate books, I want to translate authors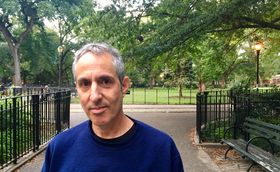 Alex Zucker, photo: Ian Willoughby New York-based Alex Zucker is one of the most highly-regarded translators of Czech literature into English and works regularly with leading writers such as Jáchym Topol and Petra Hůlová. When we spoke on a park bench in Manhattan in late September, the conversation took in Zucker's time in Prague in the early 1990s, his long relationships with authors and his criteria for choosing projects. But first he told me how he had started translating Czech literature – via an interest in human rights. More...


Peter Sis: Political events are giving my stories about parents and children fresh meaning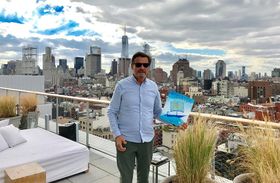 Peter Sis, photo: T. Bitnar Peter Sis has had a very successful career. His illustrations have appeared in countless prestigious publications, while his children's books, such as The Wall: Growing Up Behind the Iron Curtain and Robinson, have charmed readers of all ages, as well as picking up a host of awards. More...


Student Oscar winner Marie Dvořáková: The fact Hollywood comes calling doesn't mean it's the right fit for you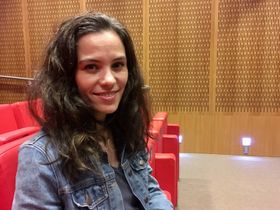 Marie Dvořáková, photo: Ian Willoughby In 2017 director Marie Dvořáková followed the likes of Spike Lee, Robert Zemeckis and her compatriot Jan Svěrák in winning the Student Academy Award for her film Who's Who in Mycology. When we spoke in New York, the filmmaker told me the short had a long gestation – and that she was currently working on not one but three new projects. But I first asked Marie Dvořáková what had drawn her to film in the first place. More...


Vladimír Dzuro: The ex-Prague detective who made a groundbreaking war crimes arrest in former Yugoslavia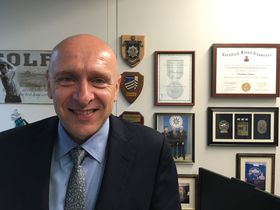 Vladimír Dzuro, photo: Ian Willoughby As a war crimes investigator in former Yugoslavia Vladimír Dzuro took part in the exhumation of a notorious mass grave in which 200 massacred Croats had been dumped. He was later involved in the arrest of one of those responsible, delivering the first European war crimes indictment handed down by an international tribunal since the end of WWII. He has captured his sometimes hair-raising experiences in the book The Investigator: Demons of the Balkan War. More...


Václav Havel Library Foundation head Pavla Niklová: US students are still excited something like Havel's story is possible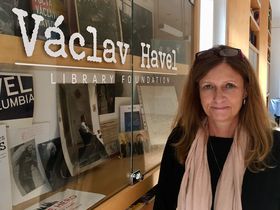 Pavla Niklová, photo: Ian Willoughby The Václav Havel Library in Prague follows the US presidential library model in gathering and archiving materials relating to the late Czech dissident turned head of state. In the US, Havel's legacy is promoted by sister organisation the Václav Havel Library Foundation, which is based at the Bohemian National Hall in New York. The latter is headed by Pavla Niklová, a former director of the city's Czech Center. More...


Jazz organist Ondřej Pivec on making it in New York: Don't ask questions – just learn it all and be prepared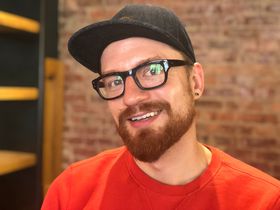 Ondřej Pivec, photo: Ian Willoughby Ondřej Pivec plays organ with one of the biggest stars in world jazz, singer Gregory Porter. This makes Pivec, who is in his mid-30s, perhaps the most successful non-classical Czech musician of his generation. When we met at a café in his Brooklyn neighbourhood, the conversation took in his struggles to establish himself in New York, the specific nature of performing in churches and his live baptism of fire with Porter. More...


Low on vacation time, Americans want the highlights when they visit Czechia, says marketer Jiří Dužár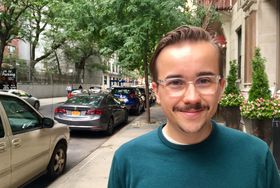 Jiří Dužár, photo: Ian Willoughby Visit Czech Republic posts wonderful photos on social media aimed at lovers of the country and potential first-time travellers to this part of the world. In North America, Visit@CZ – which is run by state agency CzechTourism – is represented by digital and social marketer Jiří Dužár. More...


Joseph Balaz: From fleeing communist Czechoslovakia as a student to working for global celebrities in New York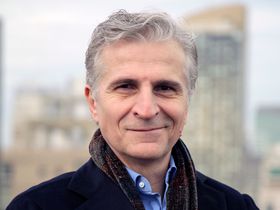 Joseph Balaz, photo: archive of Joseph Balaz Joseph Balaz is president of the Bohemian Benevolent and Literary Association, which brings together the leading Czech organisations in New York. But Balaz's main activity is running a successful construction firm that brings him into contact with global celebrities and the cream of Manhattan society. Not bad for a student from Prague's Žižkov who escaped from communist Czechoslovakia with little more than the clothes on his back. More...


Old Czech New York – a guided tour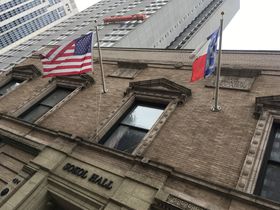 Sokol Hall, photo: Ian Willoughby A century ago the Czech community in New York was centred around the Upper East Side of Manhattan. Indeed, an estimated 40,000 Czechs lived in the area known as Yorkville. Ed Chlanda's family were members of that community and the 80-year-old kindly gave me a tour of the neighbourhood, taking in a former Czech bank, the street where he grew up, the Jan Hus church and the Bohemian National Hall. More...