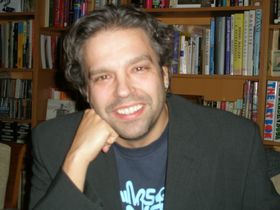 Jan Velinger I filed my first report for Radio Prague on September 26, 2001. My first years working for the broadcaster were for me a very important experience. They followed six years' work as a director at commercial station TV Nova, and came after studies in film directing under highly-respected filmmakers Jiří Svoboda, Zdeněk Sirový, and others at the Czech film academy, FAMU, where I received my Masters Degree.
I regularly cover politics, social issues and sometimes quirkier stories from the Czech Republic. My features include the Arts and Czech Life. Recent guests include the New York-based pianist and composer Dan Tepfer or Czech and Slovak directing duo Skůtr.
Equally fascinating guests were Tomáš Kolich (an expert on the representation of Sherlock Holmes in Czech literature and the arts) and Jan Orna, the owner of an Arcade Museum just outside Prague which takes visitors back to the golden age of arcades with titles like Ms Pac Man and The Gauntlet.
 

  Back